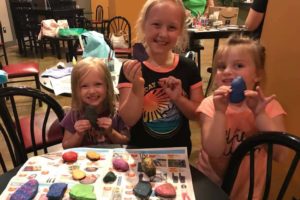 Kids' Pointe
Hello, Parents!
We are so excited to have the opportunity to serve you and your family at Kids' Pointe, a Christ – centered ministry for preschool through 5th grade. Our goal at is to create an engaging, positive learning environment where children can learn about God, His plan of salvation and His will for their lives while helping them to develop Biblical integrity. We teach kids the importance of having a personal relationship with God through prayer, reading God's word, serving, and fellowship. We want them to learn they can trust in God no matter what.
We recognize and appreciate the calling of parents to be children's first teachers. We hope to work alongside you in this endeavor. You are the spiritual leaders of the home. We invite you to explore our website to learn more about our ministry and to browse the variety of other resources we have available.
Kids

'

Pointe

Sundays 9:00 – 9:40 am. Check our POH Facebook Kids' Pointe Group for more details. https://www.facebook.com/groups/pohkidspointe
Parent

Connect

Sundays 9:00 – 9:40 am, begins September 19. Parents and grandparents of Kids' Pointe and Confirmation kids are encourage to attend.